IMPORTANT & NOTEWORTHY FILMS
FEATURING ASIAN PACIFIC AMERICANS
Between 1950 and 1959


THREE CAME RUNNING

(1950)
Studio: Madacy Entertainment
Director: Jean Negulesco
Producer: Nunnally Johnson
Cast: Sessue Hayakawa, Claudette Colbert, Patric Knowles, Florence Desmond, Sylvia Andrew, Mark Keuning, Jim Hagimori, Frank Kobata, Ken Kurosa, Sung Li, David Matshushama, Giro Murashami, Al Saijo, Pat Whyte, Mazaji 'Butch' Yamamoto, James Yanari
PLOT: British and American families living on Borneo during WW2 are sent to prison camps by Japanese, but cultured officer Hayakawa takes an interest in authoress Colbert. Producer Nunnally Johnson adapted Agnes Newton Keith's autobiographical book.


GO FOR BROKE!
(1951)
Directed by Robert Pirosh

Cast: Van Johnson, Lane Nakano, George Miki, Akira Fukunaga, Ken K. Okamoto, Henry Oyasato, Harry Hamada, Henry Nakamura, Warner Anderson, Don Haggerty, Gianna Maria Canale, Dan Riss, Hugh Beaumont, Mark W. Clark, Tsutomu Paul Nakamura, Frank Okada, Walter Reed, Harry S. Truman, Frank Wilcox, the Heroes of the 442nd Regimental Combat Team
Interesting because it actually shows somebody who expressed their actual views of the Japanese! While unexceptional by today's standards, this Hollywood combat movie features real Japanese American war heroes playing themselves--albeit in supporting roles--as they re-create their tour of duty in World War II Italy. The Nikkei stay firmly in the background, and only a fleeting mention is made of the internment. But the film is a dignified and refreshing change from the "yellow peril" stereotypes so widespread at the time. Next time, Hollywood, let the 442nd soldiers tell their own stories--and show us the camps! Special Note: On June 21, 2000, President Clinton is finally honoring the great war heroes of Asian Pacific Americans - of which, the majority are from the 442/100!
THE SEVEN SAMURAI
(1954)
Directed by Alain Resnais
Cast: Takashi Shimura, Toshir˘ Mifune, Yoshio Inaba, Seiji Miyaguchi, Minoru Chiaki, Daisuke Kat˘, Isao Kimura, Kamatari Fujiwara, Kokuten Kodo, Bokuzen Hidari, Yoshio Kosugi, Yoshio Tsuchiya, Keiji Sakakida, Jiro Kumagai, Haruko Toyama, Tsuneo Katagiri, Yasuhisa Tsutsumi, Keiko Tsushima, Toranosuke Ogawa, Yu Akitsu, Noriko Sengoku, Gen Shimizu, Jun Tatara, Atsushi Watanabe, Sojin, Kichijiro Ueda, Shinpei Takagi, Akira Tani, Haruo Nakajima, Takashi Narita, Senkichi Omura, Shuno Takahara, Masanobu Okubo, Shoichi Hirose, Junpei Natsuki, Sachio Sakai, Jun Tazaki, Eijir˘ Tono
Unanimously hailed as one of the greatest masterpieces in the history of the motion picture, Seven Samurai has inspired countless films modeled after its basic premise. But Akira Kurosawa's classic 1954 action drama has never been surpassed in terms of sheer power of emotion, kinetic energy, and dynamic character development. The story is set in the 1600s, when the residents of a small Japanese village are seeking protection against repeated attacks by a band of marauding thieves. Offering mere handfuls of rice as payment, they hire seven unemployed "ronin" (masterless samurai), including a boastful swordsman (Toshiro Mifune) who is actually a farmer's son desperately seeking glory and acceptance. The samurai get acquainted with but remain distant from the villagers, knowing that their assignment may prove to be fatal. The climactic battle with the raiding thieves remains one of the most breathtaking sequences ever filmed. It's poetry in hyperactive motion and one of Kurosawa's crowning cinematic achievements. This is not a film that can be well served by any synopsis; it must be seen to be appreciated (accept nothing less than its complete 203-minute version) and belongs on the short list of any definitive home-video library. --Jeff Shannon (note: it inspired the almost as great film starring Steve McQueen entitled " The Magnificent Seven!
HIDDEN FORTRESS
(1958)
Directed by Akira Kurosawa
Cast: Minoru Chiaki, Susumu Fujita, Kamatari Fujiwara, Toshiko Higuchi, Toshir˘ Mifune, Eiko Miyoshi, Takashi Shimura, Izumi Nagakura, Kichijiro Ueda, Misa Uehara, Koji Mitsui, Tadao Nakamaru, Rinsaku Ogata, Shiten Ohashi, Ikio Sawamura

(1959)
Directed by Alain Resnais
Cast: Emmanuelle Riva, Eiji Okada, Stella Dassas, Pierre Barbaud, Bernard Fresson

Aside from being a groundbreaking work of cinematic art, this celebrated French film features one of the first times the Western screen has shown a white woman in bed with an Asian man. The movie begins with a startling blend of documentary footage and fictional voice-over, and it ends with a stunning personal revelation that finds a common thread in suffering the world over. Credited with initiating the international "New Wave" cinema of the 1960s, this is still one of the most respected and riveting films of all time. Scripted by Marguerite Duras, whose similarly theme novel "The Lover" was turned into a piece of soft-core trash in 1992.

(1959)

Directed by Joshua Logan
Cast: Rossano Brazzi, Mitzi Gaynor, John Kerr, Ray Walston, Juanita Hall, France Nuyen, Russ Brown, Floyd Simmons, Tom Laughlin, Jack Mullaney, Ken Clark, Archie Savage, Candace Lee, Warren Hsieh, Francis Kahele, Robert Jacobs, John Gabriel, Richard Harrison, Ron Ely, Steve Wiland, Richard H. Cutting, Joe Bailey, Buck Class, Richard Kiser, Linc Foster, Doug McClure, Stephen Ferry, Beverly Aadland, Darleen Engle, Joan Fontaine, Ed Fury James Stacy, Giorgio Tozzi
The dazzling Rodgers and Hammerstein musical, brought to lush life by the director of the original stage version, Joshua Logan.
PLOT: Set on a remote island during the Second World War, South Pacific tracks two parallel romances: one between a Navy nurse (Mitzi Gaynor) "as corny as Kansas in August" and a wealthy French plantation owner (Rossano Brazzi), the other between a young American officer (John Kerr) and a native girl (France Nuyen). The theme of interracial love was daring in 1958 (as it is, shockingly today), and so was director Logan's decision to overlay emotional moments with tinted filters--a technique that misfires as often as it hits.
The comic relief tends to fall flat, and an overly spunky Mitzi Gaynor is a poor substitute for the stage original's Mary Martin. But the location scenery on the Hawaiian island of Kauai is gorgeous, and the songs are among the finest in the American musical catalog: "Some Enchanted Evening," "Younger than Springtime," "I'm Gonna Wash That Man Right Outta My Hair," "This Nearly Was Mine." That's Juanita Hall as the sly native trader Bloody Mary, singing the haunting tune that launched a thousand tiki bars, "Bali H'ai." These songs can be heard on the South Pacific's c.d. Movie is based on stories from James Michener's book " Tales from the South Pacific ." --Robert Horton
Though this film doesn't feature many Asian Pacific Americans, it is included because of its interracial theme. Rogers and Hammerstein should be given a lot of credit for this production because they were under a lot pressure to eliminate the interracial romance element.
A song, not often sung or mentioned, entitled "You Have to Be Carefully Thought" describes how one learns how to hate. It was a daring song then, it would still be a daring song today. In fact, many of the same issues still exist today between the races. Just observe the relationships between Black and White, Hispanic and Black, White and Asian, etc. in the US. A very casual glance at world politics will tell you that the same problems continual plague people outside of the US. Isn't it time that we heed the words that our artists are speaking of?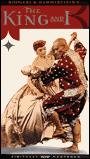 KING & I

(1959)
Directed by Walter Lang & Ernest Lehman
Cast: Deborah Kerr, Yul Brynner, Rita Moreno, Martin Benson, Terry Saunders, Rex Thompson, Carlos Rivas, Patrick Adiarte, Alan Mowbray, Geoffrey Toone, Robert Banas, Dennis Bonilla, Thomas Bonilla, Gemze De Lappe, Charles Irwin, Michiko Iseri, Irene James, Marion Jim, Fuji Levi, Weaver Levi, Jocelyn Lew, Eddie Luke, Marni Nixon, Josephine Smith, Leonard Strong, Dusty Worrall, William Yip, Yuriko
Deborah Kerr and Yul Brynner star in this excellent film adaptation of Rodgers and Hammerstein Broadway musical. The story is based on book that was previously filmed as ANNA AND THE KING OF SIAM.
Plot: Deborah Kerr plays a widowed English schoolteacher who travels to Siam to teach the King's many children, and finds dealing with His Highness her greatest challenge. Yul Brynner gives the performance of a lifetime and won an Oscar for recreating his Broadway role. Kerr is delightful & charming in portraying her many emotions when dealing with the King, teaching his children, understanding the many different things that happens in His Royal Palace, the King's dealing with women servants and her struggles to the dignities that she believes belongs to her in Siam. Her singing voice was dubbed by Marni Nixon which made the great.songs such as ``Hello, Young Lovers,'' ``Getting to Know You,'' ``Shall We Dance. '' (these songs can be heard on the film's soundtrack sound great.
The film won Oscars for art direction-set decoration, Irene Sharaff's costumes, Alfred Newman and Ken Darby's scoring. Screenplay by Ernest Lehman. CinemaScope 55. A remake entitled "Anna and the King of Siam" starring Chou Yan Fat and Jodie Foster was released in 1999.
INTERESTING SIDE NOTES: Yul Brynner originally wanted to direct the film with Marlon Brando in the role of "the King." When Brando turned down the role, the studio offered Yul Brynner higher salary and a percentage of the film's income to do the role.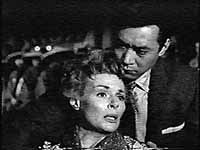 THE CRIMSON KIMONO

(1959)
Directed by Samuel Fuller
Cast: Victoria Shaw, Glenn Corbett, James Shigeta, Anna Lee, Casale Jaclynne Greene, Hansel Gloria Pall, Barbara Hayden, George Yoshinaga, Hidaka Kaye Elhardt, Nun Aya Oyama, Sister Gertrude George Okamura, Reverend Ryosho S. Sogabe, Priest Bob Okazaki, George Yoshinaga
The Crimson Kimono," was the creation by the "pulp violence" master, Samuel Fuller, is what the recently released " L.A. Confidential" tries so hard to be. Edgy, hard-boiled, steamy, lurid and studded with plot curlicues and sexual subtexts, Fuller's 1959 film gives L.A. just the right touch of tropical seaminess and stark menace! It features James Shigeta as a Nisei Korean War Veteran turned detective in a prescient plot element involving bi-racial friendship and romance long seeked by today's Asian Pacific American actors. It was multicultural before there was the word, with a grace and sophistication we have rarely seen since. As one reviewer stated "You've got two cops in love with the same woman and the feel of L.A. and its seamy underside."
site design by Asian American Artistry
for any questions regarding the content, please contact Asian American Artistry
Copyright ę 1996-2005 - Asian American Artistry - All Rights Reserved.